Need an instant Solar PV Quote? You're in the right place! At Pacific Energy, we can provide you with an Maui instant Solar PV Quote to make it easier for you to have an estimate of the cost of embracing the cleanest renewable source of energy on the planet.
Solar power helps businesses and homeowners save significantly on their energy bills. So, if you need an effective solution for slashing your bills without a negative impact on your household energy consumption, then it's time to embrace Maui solar.
Currently, PV solar power is the fastest-spreading type of energy on the planet. Across the United States alone, there are more than 2 million rooftop solar systems on businesses and homes.  Yours shouldn't be left out.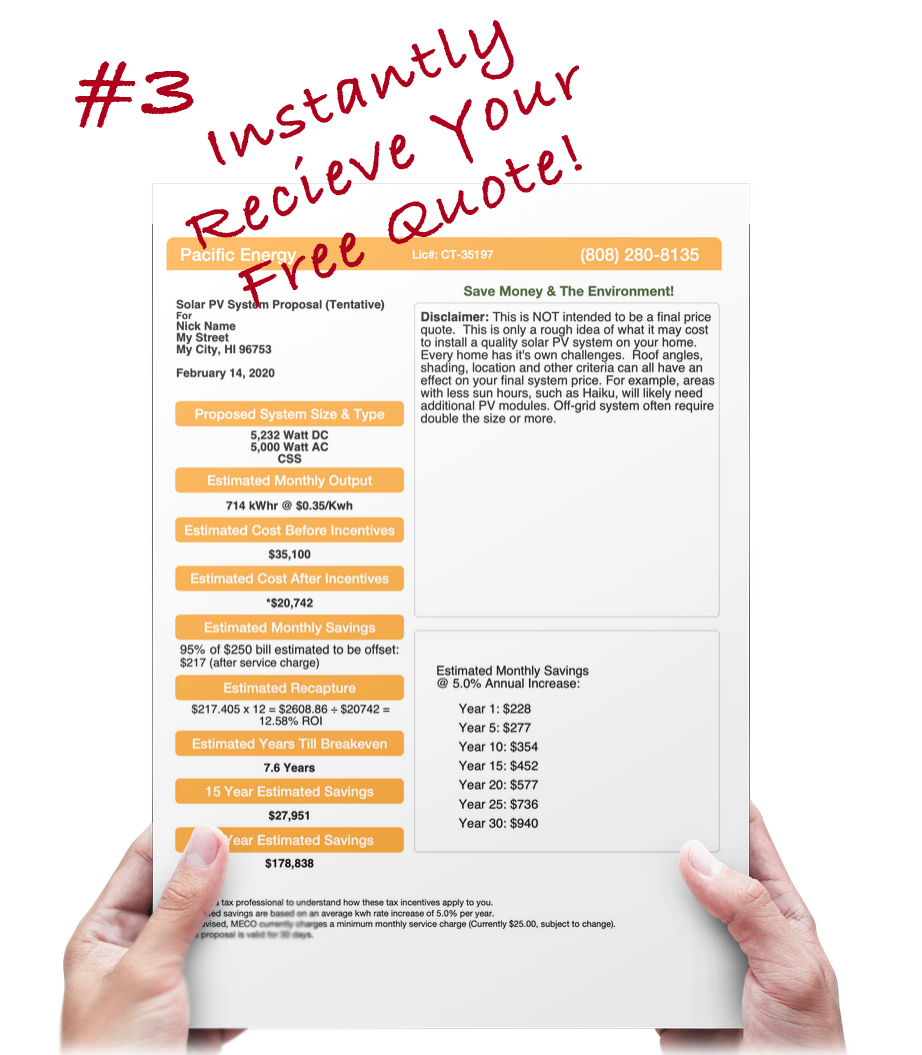 Benefits of Maui Instant PV Quote
Wondering about the key benefits of using a Maui Instant PV Quote? Here they are:
Get a crystal clear idea of the cost of solar systems
When you are shopping for solar panels or a solar system company for your home or business, it is crucial to find a solar power company that offers free quotes for their services.
When you get a free quote of a solar system or solar PV panels, it gives you a crystal clear picture of the cost to expect when you choose to go green by having solar installed on your home or business.
Any solar power company that provides top-quality service will be excited to provide a free quote of their services prior to having your solar system installed. Our Maui instant PV Quotes are absolutely free with no obligations attached.
Calculate Your Solar Panel Sizes and Its Power Output
If you're wondering the solar panel sizes you will need on your roof and the amount of kilowatts it should generate to match your household power needs, you should take advantage of our Solar Size Calculator.
All you have to do is enter the amount on your electric bill. Our solar size calculator will build your system automatically. Our system uses the least priced SunPower PV module by default.
The system gives you the absolute freedom to change the manufacturer of the PV module. You can also change the model as well as the number of Tesla Powewalls. So, you can see how the prices change and compare.
Get the best PV Panels available in the U.S.
One of the best benefits of using our Maui Instant Solar PV Quote is that you get the opportunity to use a system that generates data from SunPower Solar panels by default.
SunPower manufactures the best solar PV panels across the world. SunPower's systems can generate 55% more energy than other typical solar panels. More power also means fewer panels on your roof and more savings. Thankfully, Pacific Energy is a SunPower dealer on Maui.
More so, SunPower solar panels are made to self-activate early in the day, work all day and then automatically shut down later in the day. This gives you a huge opportunity to make the most of the produced energy. You can as well make the most of the high savings attached to it.