Pacific Energy is the leading solar installer on Maui, responsible for the installation of hundreds of solar PV panels on various homes and businesses across the island. With almost a decade under our belt, we're the highest-rated solar installer on Maui. Even when people talk to us and we can't help them directly, we do our best to connect them with someone who can. Maui style!
Finding the right solar installer on Maui for your home or business solar project may seem tricky, considering the number of installers on the island. With Pacific Energy, you're hiring the top-rated experts on the job across the island.
So, what will you get when you hire Pacific Energy for your solar installation?
Why Choose Pacific Energy As Your Solar Installer? 
We use only the best solar materials
Our high standard in the solar installation industry sets up apart, giving us an edge in every facet of our professional endeavors. The reason for that isn't far-fetched. We only use top-quality materials for all our installations. These include: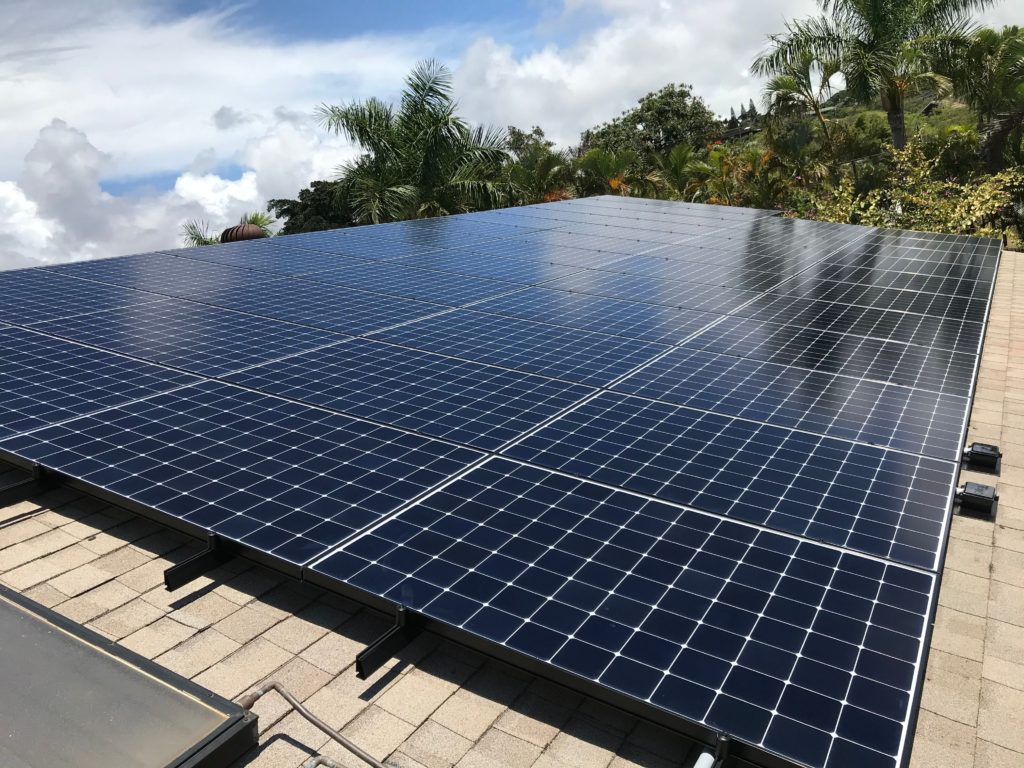 SunPower
SunPower is known for its world-class Solar PV module. SunPower's top-quality performance module ranges from 327 watts to 410 watts per module. This global leading module comes with a 25-year product warranty, a 25-year performance guarantee of 92%, and a 25-year service warranty.  More so, SunPower modules are designed to withstand very high temperatures.
At Pacific Energy, we prefer SunPower as our primary PV module supplier. This is because SunPower's Maxeon cell technology is significantly different compared to any other solar PV module available in the market today. These solar PV panels are perfect for Hawaii's highly corrosive environment of being close to the ocean and hot, humid weather. You can use our solar size calculator to figure out your solar PV needs.
Tesla Powerwall
Tesla Powerwall Lithium-Ion battery is rated as the battery with the best price for top-quality solar performance. This battery comes with a 10-year warranty – which is considered a leading benchmark in the industry.
The Tesla Powerwall Lithium-Ion battery has an inbuilt inverter and thermal management system. Some of the key features of this battery include maximizing solar self-consumption, off-grid capability, and backup power. Tesla Powerwall Lithium-Ion battery is a dependable storage solution and they are scalable.
SolarEdge
Known for manufacturing top-quality inverters, SolarEdge's products are a confluence of flexibility, top-quality efficiency, monitoring, reliability, and efficiency. The SolarEdge three-fold design is made up of power optimizers, a dependable inverter, and internet communications. We offer a 25 years warranty on SolarEdge inverter and Optimizers.
We support various solar PV options on Maui
Pacific Energy makes going green with solar easier by supporting various solar PV options. These include:
Customer grid supply plus
This PV option allows you to export all excess energy to Maui's Utility grid and get a 12.17 cent credit, per kWh, which they can use at night. Leftovers or unused credits are rolled over to the subsequent billing cycle.
Customer self-supply
This option allows you to keep all excess solar energy on-site through battery storage. This customer self-supply option makes it easier for you to lower your electricity bills significantly. You can use the solar energy from the sun during the day and use the stored energy in your battery at night. What happens if the battery is low for any reason? MECO will provide more energy to your home.
Off-grid
With an off-grid solar system, you can store all excess energy on-site using one or more batteries. You can use the stored energy at night and use the energy from the sun during the daytime.